Fàilte gu duilleag dachaidh Còisir Ghàidhlig an Eilein Mhuilich.........

Còisir Ghàidhlig an Eilein Mhuilich, the Isle of Mull Gaelic Choir, was founded in the spring of 1978 to compete at that year's National Mòd in Oban.

It was agreed to be a mixed choir and so a motley band gathered in Salen Hall in April to commence rehearsals for the National Mòd in October. Duncan MacGilp was persuaded to be conductor 'just for that year', because there was no thought of continuing in future years!

At that Oban Mòd, our Choir achieved a commendable third place in the Sheriff MacMaster - Campbell competition. We also won the Selma Shield for the highest marks in Gaelic, a Trophy which has returned to Mull on many occasions since 1978. Needless to say it was agreed at the first Annual General Meeting that our Choir should continue. The choir has gone from strength to strength, more recently under the baton of Elizabeth Jack, who successfully led us for 20 years until her retirement in 2021 after the National Mòd in Inverness.

We are very fortunate to have Donna Dugdale take up the baton and the continuing Gaelic tuition of Janet MacDonald.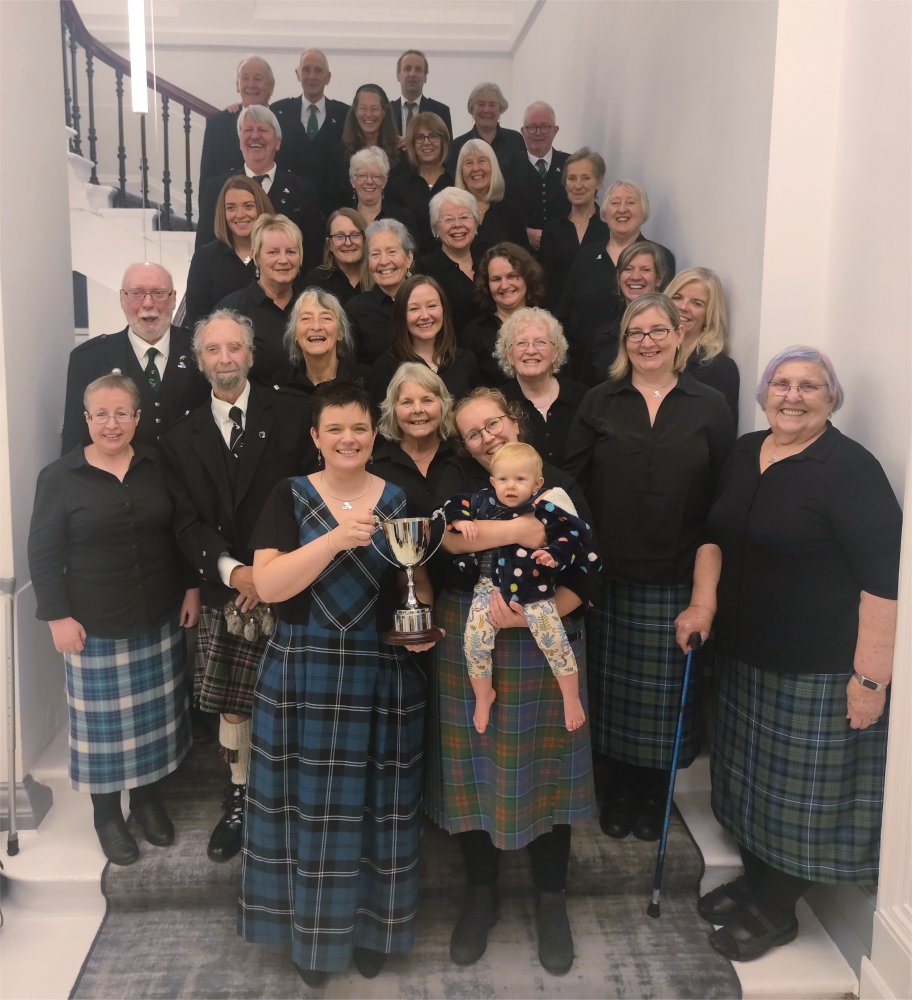 Mull Gaelic Choir at the National Mod October 2023
---
Latest News



Our conductor Donna Dugdale has pulled the choir together after the COVID19 pandemic managing both live and virtual rehearsals.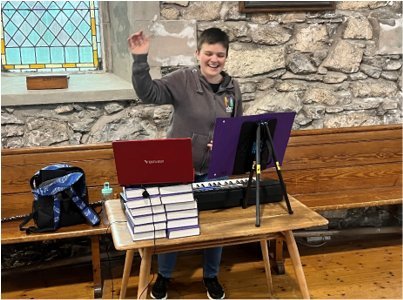 We learnt the new songs for the National Mòd in Perth this year and for the local Mull Mòd. We are also brushing up our large repertoire of songs and taking on a Christmas concert "Cakes & Carols" in 2022. Our Gaelic Tutor Janet MacDonald has been keeping the choir's pronunciation on the right side of Gaelic.

The pandemic has pushed a turnover in members, valued members leaving and new voices joining us. Along with singing at the Mòds, we are also planning to sing at local venues, cruise ship and events. Keep an eye out for updates on our performances!




Our choir are so pleased at taking part in Gaelic Week / #SeachgainNaGàighlig and being awarded a small grant towards a workshop we are holding.
Sileas Sinclair will be taking a workshop with us on 23rd February 2023 and the results of this will be heard when we sing at public events during the coming summer.
Have a look at what other events are taking place during Gaelic Week:

Dachaigh (Home) www.cleachdi.scot/
Seachdain na Gaidhlig (Gaelic week) seachdainnagaidhlig.scot/


---
Choir activities
National Mod 2023
February workshop 2023
Cake & Carols Concert 2022
Arle Gathering 2022
National Mod Perth 2022
Mull Mod 2022
Choir entertaining Cruises Summer 2022
Christmas Dinner & Elizabeth's Retirement 2022
Scandi Tartan at Duart Castle 2021
National Mod Inverness 2021
National mod Glasgow 2019
Duart Castle 2019
Oban Mod 2018
National Mod Fort William 2017
Christmas 2015
National Mod Oban 2015
National Mod Inverness 2014
Local Mod September 2014
Iona Abbey 2014
The start of a New Year 2014
Christmas do, Western Isles 2013
Watercolour Studios October 2013


Watercolour Studios October 2012
Local Mod September 2012
Receiving a cheque at the Fire Station June 2012
National Mod, Stornoway, October 2011
Oban Mod, October 2011
Local Mod, Tobermory, September 2011
Busking 2011
Duart in June 2011
Duncan's retirement
Christmas 2010
Local Mod 2010
General news 2010
General news 2009
National Mod, Oban, October 2009
Local Mod, Tobermory, September 2009
Lochaline workshop 2009
National Mod Falkirk 2008
Ceilidh to celebrate the choir's 30th Anniversary
Christmas dooo at Arle 2007
National Mod, Fort William, October 2007

Local Mod, Tobermory, September 2007
Workshop February 2007
National Mod, Dunoon, October 2006
Local Mod, Tobermory, September 2006
Mull and Iona Association 05
Perth Mod 2004
Ceol nan Coisir and National Mod 2004
One of Mishnish annual fundraisers 2003 ?
Christmas Dinner 2003
Oban Mod 2003
Ireland 2003 Burns night near Belfast
The Pheonix Choir visit Mull
Christmas Dinner 2002 The less said the better
Largs National Mod 2002
Trip to Staffa to sing for BBC
Stornoway National Mod 2001
Tralee 1996
1985 Celebratory Ceilidh
1984 at Torosay (Highway, ITV with Harry Secombe)
Boswell and Johnson dinner, Western Isles. Robbie Coltraine and John Sessions filming for the BBC - 1993
---
Group photographs of the choir
---





Please send your contributions for this website (pictures and text) to Hazel at Arle Lodge thanks



The National Mòd 2022 was in Perth and the first to allow competition again after lockdown. This was Donna's first Mòd as our new Musical Director and she did an amazing job. We came third in the Rural Choirs – Mixed – Sheriff MacMaster and third in the Rural Choirs Ladies competition. Carol came second in the Solo Singing Mixed Oban Times Gold Medal. Natalie came second and Janet Campbell third in the Solo Singing Mull & Iona Open Mixed competition. Janet also came third in the Solo Singing Skye & Sutherland Open Mixed competition. Donna came first in the Solo Singing CalMac Competition. Atomic Piseag came first in the Area Choirs - Ladies competition and Còisir Ceann an Tuirc came second in the Choir - Open - Men competition. Thanks to Janet MacDonald's tutoring, we gained the John Lockie Cup for best Gaelic at the Mòd this year.

The National Mòd was held in Inverness in 2021. Rather than choirs competing, showcase presentations were made and our choir sent a delegation to represent Mull. Under the baton of Elizabeth Jack, we sang Air an Tràigh, French, An t-Eilean Muileach (of course!) and O righ nan dul. Individuals, a duet and a quartet from our choir also sang and competed. While coming out of lockdown for the COVID19 pandemic, we had our own Scandi Tartan when we sang for Norse Projects out at Duart Castle. Our first rehearsals together we also held at Duart Castle and we were very relieved to be singing together again after a very long, enforced break in meeting.

With places closed and events cancelled during the pandemic during 2020, we thought that we would put together a virtual rendition of An t-Eilean Muileach to lift everyone's spirits. Many thanks to Alex Dugdale for editing our efforts into a great video.



Home Page | Video clips | Contact Choir Secretary | CD sales | Trophy cabinet